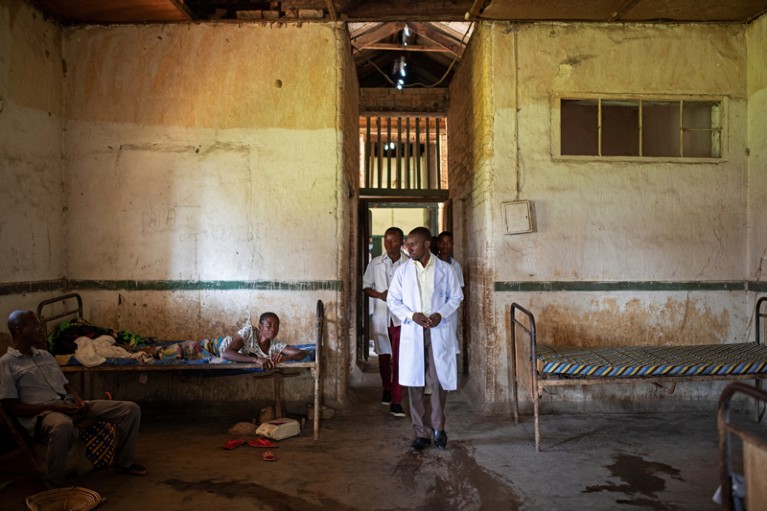 A World Health Organization (WHO) committee met earlier this week to decide whether the mpox outbreak — which began in May 2022 — is still a global public-health emergency, and the agency could soon declare it over. The outbreak has subsided in countries including the United Kingdom and the United States, thanks to the deployment of vaccines and therapeutics, as well as changes in awareness and social behaviour. But the same is not true in some nations in West and Central Africa, which have been battling the monkeypox virus for decades, and where the disease's toll has been historically highest.
Even while global mpox infections have plummeted from more than 1,000 new infections a day at their peak to fewer than 70, numbers have not fallen substantially in African countries. The Democratic Republic of the Congo (DRC), for instance, has reported more than 1,000 suspected cases since October. But even those numbers are a "gross underestimation" of reality, says Dimie Ogoina, an infectious-disease physician at Niger Delta University in Amassoma, Nigeria. Many infections are never confirmed because of an underfunded testing and virus surveillance system.
African researchers commend the increased attention paid to the long-neglected virus during the global outbreak. But they say that wealthy countries were the main beneficiaries. Vaccines and treatments have not materialized in Africa, and the knowledge gained about the virus has done little to change the course of the outbreak on the continent.
"The majority of the published literature of monkeypox is from the global north," Ogoina adds. "We are still working largely blindly here" to understand transmission patterns and effective responses in Africa, he says.
A long battle
Before 2022, almost all of the world's human cases of mpox had been in Africa. The disease (which is now called mpox while the virus continues to go by monkeypox) causes fever and painful fluid-filled lesions on the face, hands and feet — and in severe cases, hospitalization and death. Some African nations have been grappling with mpox outbreaks ever since scientists identified the first human infection in the DRC in 1970.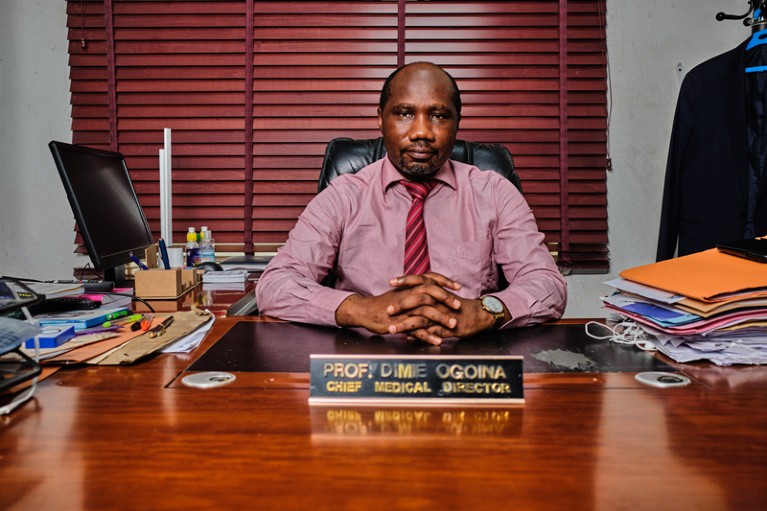 Outside of Africa over the past year, the virus has spread mainly among men who have sex with men, through close skin-to-skin contact. Transmission patterns and clinical manifestations of the disease are much harder to pin down in some African countries, where rodent species are thought to naturally harbour the virus and regularly spread it to humans. For example, whereas more than 95% of people infected with the virus in the United States have been men, only about 60% of those who have had confirmed infections in Nigeria are men.
And infections in Africa are still flying under the radar, Ogoina says. Out of more than 7,200 infections on the continent suspected of being mpox in 2022, only about 1,200 could be confirmed by standard diagnostic methods, because of an underfunded testing and surveillance infrastructure. The DRC has reported more than 70% of the continent's suspected cases — of which only 279 have been confirmed.
Treatments out of reach
The millions of smallpox vaccines purchased by and distributed throughout wealthy countries such as Canada and the United Kingdom have also largely been out of reach for fighting mpox in African nations. (The viruses that cause smallpox and mpox are related, so health officials hoped that smallpox vaccines would also work for mpox.) The African Union will receive a 50,000-dose donation from South Korea — the continent's very first vaccines not designated for research purposes — according to a 29 November announcement by the Africa Centres for Disease Control and Prevention. The agency, however, did not respond to Nature's queries as to when those doses would be delivered, or to which countries.
Rosamund Lewis, technical lead for mpox at the WHO, based in Geneva, Switzerland, acknowledges that efforts to provide vaccines and treatments to African nations have "not been moving fast enough for anyone's satisfaction". Supplies and donations have been scarce; in the meantime, the WHO's regulatory department is still reviewing data collected from other countries about the vaccines' safety and efficacy, she says.
There has been a similar delay in African nations accessing tecovirimat, an antiviral approved for smallpox that is thought to work against mpox. US regulators authorized the drug for compassionate use against mpox during the global outbreak, and more than 6,800 doses have been administered there. By contrast, people in Africa have access to tecovirimat only through clinical trials, which are now starting up in several African countries. Piero Olliaro, a specialist in poverty-related infectious disease at the University of Oxford, UK, has been conducting a small trial of the drug in the Central African Republic, in which 20 people have received it. "That's less than a drop in the ocean," he says. "How come we offer tecovirimat to all mpox patients in the US, where the drug is registered only for smallpox, but need a [randomized, controlled trial] to prove it works in Africa?"
'Complacency isn't an option'
Still, the global focus on the virus has changed a few things in Africa. For one, because of all the published case reports, physicians who had never heard of the disease now know what the telltale lesions look like, Ogoina says.
And the global interest has inspired some research projects in Africa. For example, Rosemary Audu, a virologist and director of research at the Nigerian Institute of Medical Research in Lagos, and her colleagues created the country's first mpox test for research use, to complement the ones that health officials use to diagnose infections. Audu and her colleagues also received a CAN$3 million (US$2.25-million) grant from Canada's International Development Research Centre and the Canadian Institutes of Health Research, both based in Ottawa, that she hopes to use to better understand the virus's transmission and spread in Nigeria. As part of this project, she plans to apply her team's mpox test to samples stored at clinics around the country that treat sexually transmitted infections, to look for undiagnosed cases.
Because the monkeypox virus continues to cause deaths in Africa and could contribute to future outbreaks everywhere, complacency isn't an option, Ollario says. "Monkeypox may come back again in a more nasty way," he adds. In particular, researchers worry that a strain of the virus found in Central Africa called clade I could spread. This one kills about 10% of infected people, making it more lethal than the strain circulating in West Africa that is thought to have sparked the global outbreak. There have already been signs that the clade I strain can spread beyond its typical range: it was responsible for an outbreak last year at a refugee camp in Sudan that led to more than 15 confirmed and 180 suspected infections, Lewis says.