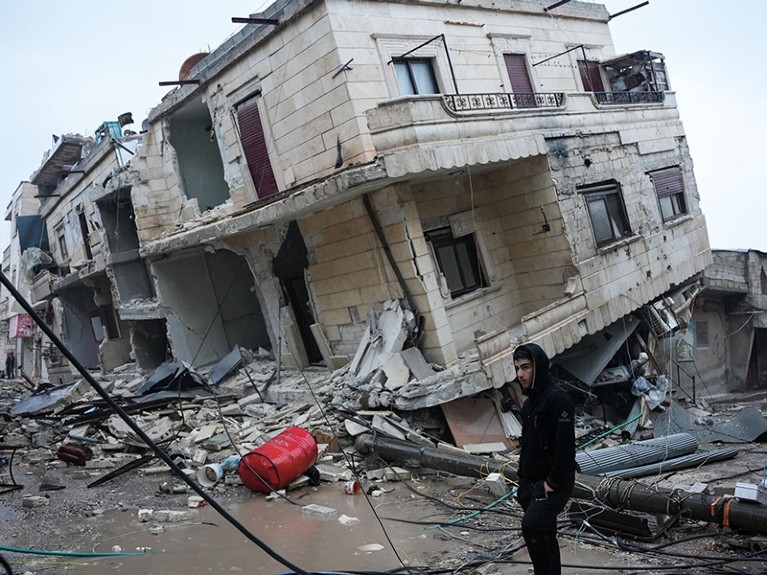 A Magnitude-7.8 earthquake hit south-eastern Turkey and parts of Syria in the early hours of the morning of 6 February. More than 2,500 people are known to have lost their lives with thousands more injured. The quake was followed by a Magnitude-7.5 event some nine hours later, as well as more than 200 aftershocks.
The earthquake and the aftershocks have flattened buildings and sent rescuers digging through concrete to find survivors, with the death toll expected to increase further. Nature spoke with four researchers about the region's seismicity and what the next few days will bring.
Turkey is in an active earthquake zone
Most of Turkey sits on the Anatolian plate between two major faults, the North Anatolian Fault and East Anatolian Fault. The tectonic plate that carries Arabia, including Syria, is colliding northwards into the southern rim of Eurasia and forcing Turkey to be squeezed out towards the west, says David Rothery, a geoscientist at the Open University, UK. "Turkey is moving west about 2 centimetres per year along the East Anatolian fault," he adds. "Half the length of this fault is lit up now with earthquakes."
Seyhun Puskulcu, a seismologist and coordinator of the Turkish Earthquake Foundation, based in Istanbul, says people in Turkey are well aware of their vulnerabilities to earthquakes. "This wasn't a surprise," says Puskulcu who was touring the cities of Adana, Tarsus, Mersin and west Turkey last week, delivering workshops on public earthquake awareness.
The earthquake's epicentre was 26 km east of the city of Nurdagi in Turkey's Gaziantep province, at a depth of 17.9 km. The later Magnitude-7.5 event was around 4km south-east of Ekinözü in the Kahramanmaraş province.
Buildings in Turkey and Syria are vulnerable – war made things worse
Often, people who die in earthquakes do so from falling bricks and masonry. According to the US Geological Survey, the population of southern Turkey lives in structures that are extremely vulnerable to earthquake shaking, with unreinforced brick masonry and low-rise concrete frames.
In a study published last March in Soil Dynamics and Earthquake Engineering, Arzu Arslan Kelam from the Middle East Technical University, Ankara, and colleagues suggested that the centre of Gaziantep would potentially experience medium-to-severe damage from a Magnitude-6.5 earthquake. This is because the majority of existing buildings are low-rise brick masonry structures, constructed very close to each other.
In 1999, a Magnitude-7.4 earthquake hit 7 miles southeast of Izmit, Turkey, killing more than 17,000 people and leaving more than 250,000 people homeless. After this tragedy, the Turkish government introduced new building codes and a compulsory earthquake insurance system. However, many of the buildings affected in today's quake were built before 2000, says Mustafa Erdik, a civil engineer at Bogazici University, Turkey.
It is worse in Syria, where 12 years of conflict have decimated building standards. Today's earthquake penetrated into Syria's north-western regions with reports of buildings collapsing in Aleppo and Idlib. Those of Syria's war-damaged buildings that have been rebuilt have used low-quality materials or "whatever materials are available", says Rothery. "They might have fallen down more readily than things that were built at somewhat greater expense. We've yet to find out," he adds.
What's next?
Researchers say people need to brace themselves for yet more quakes and aftershocks, as well as deteriorating weather. "The possibility for major aftershocks causing even more damage will continue for weeks and months" says Ilan Kelman, who studies disasters and health, based at University College London, UK.
"The weather forecast for the region for tonight is dropping below freezing. That means that people who are trapped in the rubble, who might be rescued, could well freeze to death. So these hazards continue," Kelman adds.